By reading this entry, we hope you will better grasp the reasons behind setting up such plans and what are the most common types of benefits. Full disclosure: we'll mostly focus on awards linked to performance and how they are developed to meet the desired business objectives. Lastly, we'll also share with you the steps to developing a good LTIP.
How employee benefits help manage talent
In May this year, we released the results of the Global Workforce Hopes and Fears Survey 2022. Over 52,000 workers across 44 countries and territories responded to the survey and the majority of them said they felt empowered by their current circumstances —meaning, since their  specialised or scarce skills are in high demand, they can easily change the workplace and get a rise in benefits or improve other conditions while switching employers.
In fact, more than one-third of respondents said they planned to ask for a raise in the coming year, and one in five said they are extremely or very likely to switch employers. This shows that companies will have to go beyond "just pay" and find different and more appealing ways to retain and attract key talent —and that's exactly what they are doing.
That's why, now more than ever, employers need to design and offer attractive benefits to their current and prospective key employees. Don't know where to start? Fret not; stick with us because we will explain to you all you need to know.
We start with the basics. Employee benefits are any kind of compensation paid to employees. There's a wide range of benefits that employers can design and ultimately provide. These are typically classified as short-term employee benefits such as wages, bonuses, paid annual leaves, among others; and long-term ones such as pension, post-employment medical care, long service leave or a long-term incentive plan, to name a few.
Employers design such benefits with kind-hearted intentions, but also with the objective to tackle commercial objectives as, increasingly, they face the need to:

Zooming in on Long-Term Incentive Plans
In Europe, Australia and the United States, there's an increasing trend towards performance-based plans where the employer rewards employees for fulfilling the specific goals mentioned above. While these plans are more relevant for executives, the management level talents tend to be more and more implicated as well. These benefits are known as Long-Term Incentive Plans (LTIPs).
LTIPs are generally designed in such a way as to be simple to understand, objective, and aligned with the performance of the market, business and individual. The specific characteristics of each individual plan should be driven by business objectives and aligned with the Human Resources (HR) strategy.
The objective is to find the right balance between the plan's costs and benefits to ensure that the employer attracts and retains key employees, and that they will remain loyal and motivated to perform to create value for the company —all while keeping a manageable level of associated costs.
When designing a suitable LTIP, it's important to view it in conjunction with other financial and non-financial reward elements. In other words, you want to look at the "big picture" to arrive at a fitting incentive arrangement that's guided by a number of parameters, including the provision of awards that are aligned with the market and the shareholders' interests. The "big picture" is then built looking at the total reward package of the employee.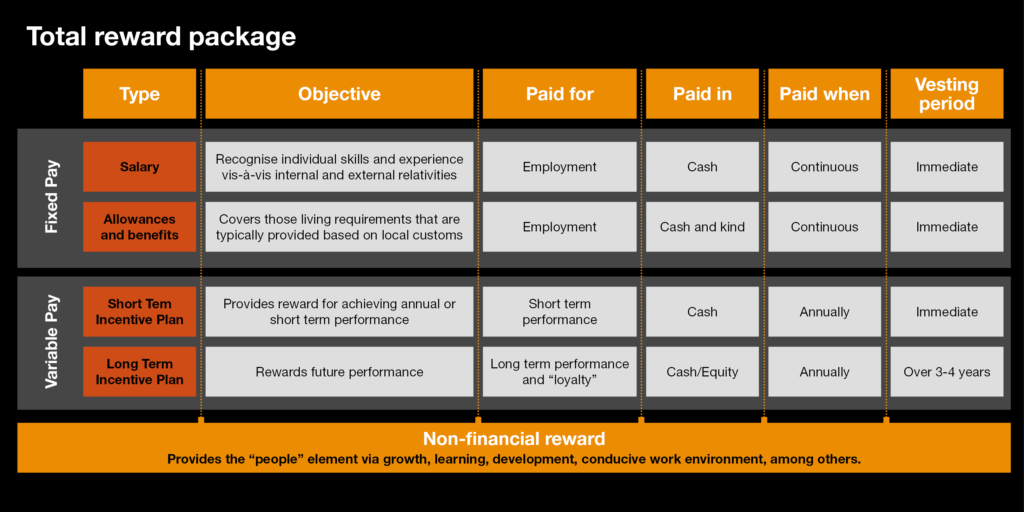 There are additional considerations to take into account while designing the plan. In particular, some employers might want to avoid capital dilution and introduce tax-effective compensation arrangements, or employers might be reluctant to buy shares from the market and are sensitised to the problem of Profit and Loss (P&L) volatility. And sometimes some designs aren't approved as they require extensive administration for bookkeeping and evaluation.
The most common classes of  LTIPs
LTIP designs really depend on the needs and objectives of individual organisations. At a high level, they can be classified into one of four types depending on the way managers participate in the company's capital:
  – Appreciation-based awards are annual awards of shares or other forms of LTI are the standard model in most companies. The award is granted after a period of time based on continuity of employment and in some cases corporate or individual performance.
  – Co-investments that facilitate the building up of shareholding and ensure that there's a strong alignment between the interests of executives and shareholders by having skin in the game. Such an arrangement is becoming the norm in financial services where regulators expect a portion of annual bonuses to be deferred into company shares.
  – One-off arrangements are used in circumstances such as a turnaround situation or the management team's retention. An example of such an award might be 5 percent of the company if certain targets are met.
  – Value-sharing type replicates the reward model found in the private equity industry. Such an arrangement is structured so that management shares a determined percentage of the value created for shareholders above a hurdle. Typical value-sharing percentages range between 5 and 15 percent.
The most popular classes of LTIPs from the list above are appreciation-based or hybrids of appreciation-based and co-investment. In particular, the following LTIP are observed on the global market:
  – Stock option plan: the conditional right to purchase a share at the "exercise/strike price", subject to vesting conditions.
  – Restricted share units (RSUs): the award of shares (generally at no cost for the employee), usually subject to performance conditions, claw back provisions and selling restrictions.
  – Phantom share plan: where employees are granted the financial benefit of stock without having any beneficial ownership. Subject to vesting requirements, the plan is cash-settled.
  – Deferred cash plan: the deferral of a portion of the employee's bonus to be paid out at a specified later date.
How to develop a good LTIP
Based on our experience, the plan design journey can be summarised in four steps.

1. Assess
The LTIP will heavily depend on the employer's strategy, operating model and structure, business plan and financial projections for the next three to five years. Therefore, the rewards strategies we design are tailor made for each employer according to their need in supporting the business strategy and developing shareholder value. The employer's sector and market practices could also create some biases towards certain designs that should be explored first.
2. Design 
As a second step, we need to design the key principles of the LTIP, including eligibility (to whom and to what extent), funding mechanism, payout mechanism and linkage to organisational and individual performance. As a part of this step, we usually recommend LTIP design options.
The key building blocks of the plan design are presented below.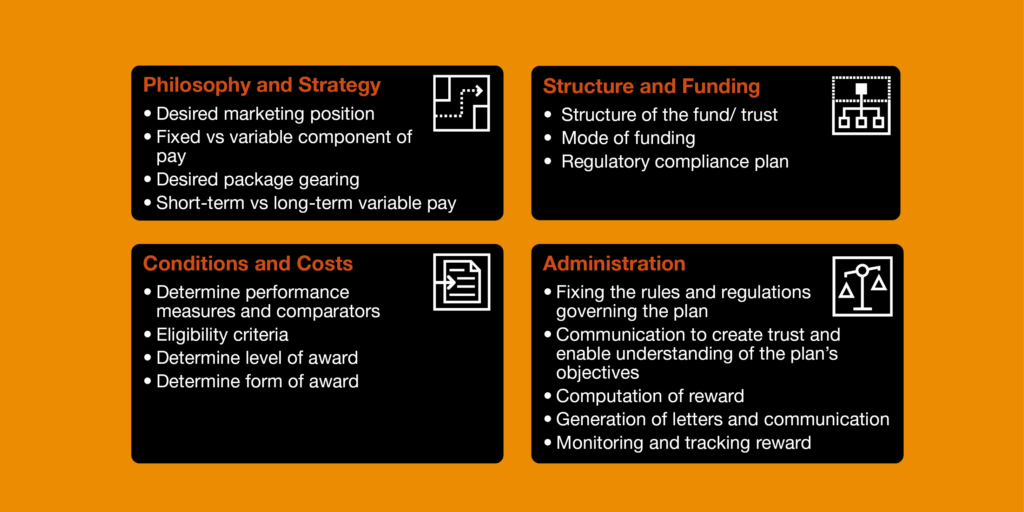 Once the future plan's elements have been agreed by the board of directors —usually based on HR/Consultant suggestions—, it's also important to understand the accounting and tax implications as well as the legal validation of the LTIP's enforceability.
3. Proof
Once the key features of the LTIP have been set out, we usually devise a financial model to develop, refine, analyse and test the payouts of the LTIP at varying organisation performance and profit shares. The simulation exercise helps to fine-tune the design or/and consider alternatives.
The desired criteria are to be met at an acceptable level of cost and burden. At this stage, employers might also need assistance on key tools and templates for employee communication and preparing official plan documents.
4. Implement
Lastly, required accounting rules as well as digital solutions to evaluate relevant associated cash flows and accounting figures are implemented. It's important to train staff on its use and how to administrate the process around awards. Such tools and processes are generally incorporated and documented.
With this, the LTIP goes alive, but the journey doesn't end here. It will require regular monitoring and fine-tuning to see if, with time, the design meets the expectations, and if values attributable provide the relevant incentive expected.
The design of an LTIP involves several stages and requires multidisciplinary teams, including reward and compensation specialists, accountants, actuaries, lawyers and tax specialists. We want to be very honest with you: the good design generally comes at increased costs, but the increased benefits truly outweigh them.
Now you may ask yourself, "Who's the 'we' behind LTIP rewards?" Actuaries have been successfully employed for decades to help manage traditional employee benefit plans. The LTIP rewards area was considered as a non-traditional field for them in the past, but it's now becoming a new normal as they have acquired sufficient knowledge in benefits, statistics, and business projections. This allows them to develop the relevant approach in finding the balance between affordability and attractiveness. Sometimes it requires stress-testing and stochastic modelling to understand the  impact on payouts and organisation performance.
Conclusion
Based on our experience, Long-Term Incentive Plans can be very effective instruments to attract and retain key managers. They're also aligned with the modern approach to benefit offering to be based on individual preferences of the employee.
To make the LTIP meet the initial objectives, it's important to keep the plan up to date, introducing new features following the market situation or changes in the company's strategy. Cross-disciplinary expertise would allow you to establish and maintain LTIP, won't be too expensive for you and at the same time be really attractive for your employees. So, let's give it a try!